Sales
M-F, 9AM - 5PM (EST)
760.746.7400

XFLO Protein Skimmers
Trusted by Industry Professionals Worldwide
RK2 Systems is the industry standard when it comes to protein skimmers for public aquariums and zoos,commercial aquaculture, and research institutes alike. We have established ourselves as the global market leaders with over 25 years of manufacturing high quality and extremely efficient protein skimmers. Now we offer that same quality and performance for the home aquarium!
Introducing the XFLO Protein Skimmer! This is the newest innovation from RK2 Systems. XFLO Protein Skimmers are designed for systems of 100-450 Gallons. XFLO features a clear acrylic reaction chamber, large waste collection cup with an unbreakable polycarbonate lid, High Density Polyethylene (HDPE) base, and easily assembled/dissembled components. The XFLO can be used both in-sump or externally/out of sump.
XFLO Protein Skimmers are currently available in two models, the XF6-2.5 and the XF-6 3.5. Each model is available as needle wheel skimmer, or with a traditional Venturi style Mazzei Injector.

Needle Wheel

Mazzei Injector

Features & Benefits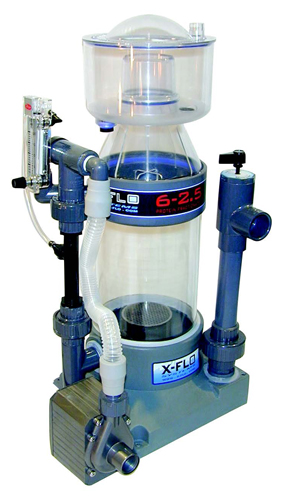 X Flo 6-2.5
Available in needle wheel or venturi driven
Ozone compatible
True counter current design allows for enhanced removal of dissolved organics
Unique 4 baffle plate design in riser cone allows for better foam ejection by creating vertical momentum up out of riser and into collection cup
In sump/out of sump installations
Easy to remove unbreakable molded polycarbonate lid,cup and cone
Accurate level control with easy to duplicate settings
Unique medical hose supplied for simple yet versatile pump connections
Easy disassembly for cleaning and upgrades
Can be purchased with or without pump
Sizing
XFLO 6-2.5: Rated for 200-400 Gallons
XFLO 6-3.5: Rated for 400-700 Gallons