Sales
M-F, 9AM - 5PM (EST)
760.746.7400

AQUARIUM FILTRATION SUMPS

Aquarium Filtration Sumps
Smart Sump Technology
RK2 Systems, Inc. introduces our "Smart Sump" commercial grade filtration sump systems for the aquarium industry. While each Smart Sump is built to last a lifetime, they also offer users the ability to convert from a traditional filtration sump to a fully functional refugium within a few simple steps. Better yet, you can make this conversion without the need to purchase additional assemblies.
Every RK2 Systems Smart Sump features the following:
Industrial PVC material
Acrylic windows with water level markings in inches and gallons
Lexan Polycarbonate lids
Removable filter sock tray
Adjustable bio media chamber/refugium
Heater holder
Adjustable water level weir with probe holders and dosing line holders
Cord cut outs for cable management
John Guest fitting for auto top off line
Currently, RK2 Smart Sumps are available in five standard sizes/configurations.
22"L x 16"W x 16"H
34"L x 18"W x 15"H
46"L x 22"W x 22"H
56"L x 26"W x 20"H
70"L x 24"W x 20"H
Custom Sump Design and Fabrication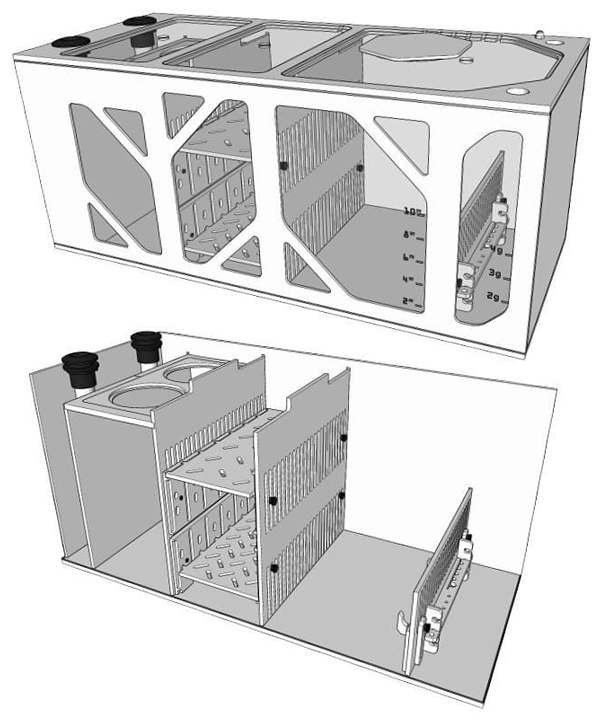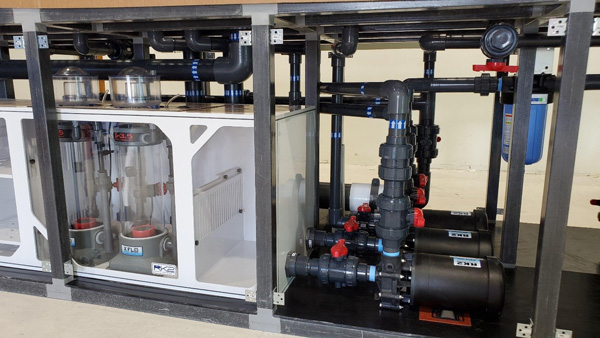 Do you have a project that requires a custom filtration sump for your next project? Our expert design team will work with you step by step to take your concept and make it a reality. Detailed 3D drawings are provided for your review prior to final fabrication ensuring you get the exact product you need without any surprises at the time of installation. RK2 Smart sumps are built to the highest standards using highest quality materials. When considering options for an industrial grade sump for your next project don't get pigeonholed into an overpriced solution! Contact RK2 for a budget friendly alternative.