Sales
M-F, 9AM - 5PM (EST)
760.746.7400

Titan Water-Cooled Marine Duty Heat Pump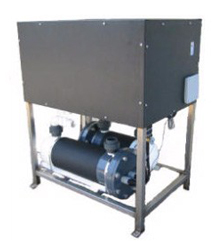 Aqua Logic's Marine Duty Water-Cooled Titan Heat Pump is specially designed for use with a seawater supply. Typical uses include public aquariums, mariculture, aquaculture research facilities located near the ocean, and fishing vessels. Constructed of titanium and PVC the water system is completely compatible with all seawater applications. Waste heat from the condenser water may add additional benefit to other companion applications. A properly sized and installed heat pump will provide stable, thermostatically controlled water temperature in the range of 40-85ºF.
Features
2 Hp - 25 Hp
Heat or Chill with one unit
In-Line Titanium Tube In Shell Evaporator
Sea Water Cooled Condenser
Digital Temperature Controller in NEMA4 enclosure
Safety Cut Outs
230vac/3 phase line voltage monitor
Includes 304 Stainless Steel Stand (Option for 316 SS)
Fresh or Saltwater Use
Compact Design
Quiet Operation
Black ABS Cover
Sizing
A number of factors influence the correct size of heat pump required for your application. While standard Btu calculations can be applied, and our Heat Pump Specifications can offer some guidelines, the parameters of your application will be the deciding factor in correct size selection.
Options
Powder coating available for stainless steel stand at an added charge.
Coastal coating protection available for condensing units that may be exposed to salt air or corrosive environment. Additional charge will be incurred.
Stainless steel stand can be upgraded to 316SS at an additional charge.